When it comes to technical SEO, website SEO auditors are an integral part of the process. If you are an SEO then you already know how important SEO audit tools are.
There are many SEO audit tools out there and the problem beginners often face is selecting the best among them. Every SEO software claims to be the best website audit tool which further confuses beginners. So, we hope this blog will help you in picking among the top SEO auditors.
We have picked up the 12 best tools ranked in order. We ranked them on the basis of:
SEO Reporting. Reporting is necessary part as you need to make other stakeholders aware of the technical issues that the website is facing. SEO audit report should be clean and understandable by everyone and best audit tool should be able to generate that.
Affordable. The SEO website auditor should be affordable particularly by small business owners. The cost of the auditor should rise steeply as your requirements grow.
User Management. When you are working alongside with your team then user management becomes important.
Alright, now we are ready to introduce you to the 9 best website SEO audit tools:
1. Screaming Frog
Screaming Frog is one of the best SEO audit software out there in the market. It is one of our go-to SEO tools whenever we need to perform any sort of technical audit. It comes with a host of features that are quite useful for any level of SEO work.
However, the free version allows you to only audit 500 URLs. If you have a large website of more than 500 URLs then you need to purchase a license to fully take advantage of the tool.
2. Ahrefs Webmaster Tools
Ahrefs comes second on our list. To use Ahrefs webmaster tools, you need to verify your website with Ahrefs just like you do with Search Console. Ahrefs is one of the main tools and honestly speaking we never felt we need another one. Ahrefs does pretty much everything we need.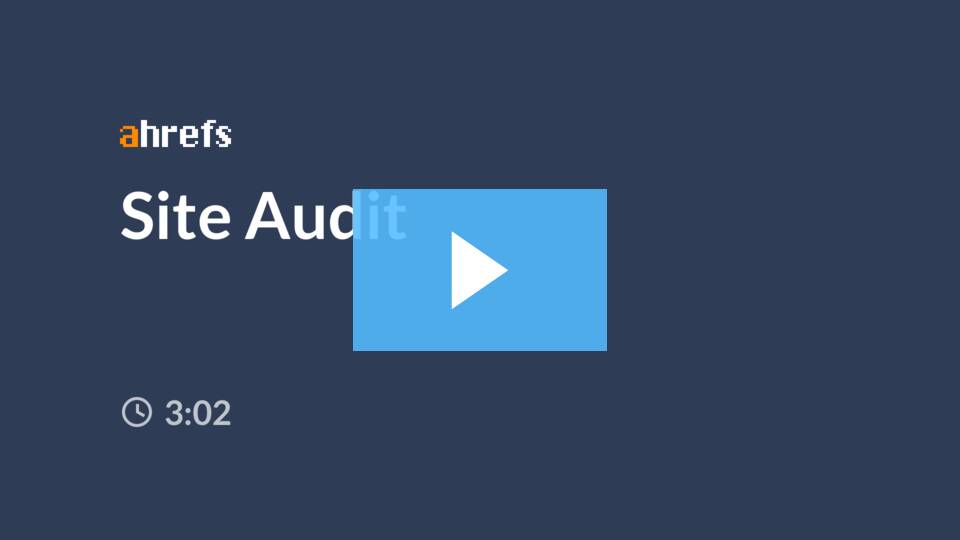 Ahrefs – SEO Tools & Resources To Grow Your Search Traffic
One of the exceptional features of Ahrefs is its reporting that is very useful. Once you start using Ahrefs, you bet you would never sign out from it. Ahrefs audit tool can be used free of cost once you verify your website with it.
3. SEMRush
SEMRush comes third on our list. It provides comprehensive SEO auditing as well as reporting. You can also integrate Trello with it for easy issue tracking and resolution.
However, with the free version, you can only crawl 100 URLs and it becomes quite costly once your requirements grow.
4. Bing Webmaster Tools.
Bing webmaster's tools act as a cool website SEO auditor. It only lists issues that are quite critical for your Bing SEO growth.
Also, you should include Bing in your search engine optimization strategy and Bing webmaster tools become important for that as well.
5. Serpstat
Serpstat is another all-in-one SEO tool that provides SEO audit analysis reports. The only reason we are mentioning it is that we have used it once in a while and it gave pretty decent results.
With Serpstat, you can export your audit report and share it with others as well.
6. Visual SEO Studio
This is certainly one of the best SEO audit tools. Yes, we have used it a lot. It provides a comprehensive SEO audit analysis for your website. Also, you can save projects and track their audit progress.
Whether you need image audit, content audit, technical audit, this SEO software does it all. We definitely recommend this tool. Go ahead with it. We can say you can prefer it over SERPStat as well.
7. Link Assistant
We have used Link Assistant's audit tool only once in a while. It provided quite good results for us. This is also one of the options you can explore among SEO audit tools.
8. DeepCrawl
Deep crawl is another popular technical SEO platform that provides website audits for organic growth. Deep crawl provides quite clean and visually appealing SEO audit reports. This is another tool that we recommend.
9. Oncrawl
On crawl is another SEO tool that fits well into enterprise SEO auditing and reporting. This SEO tool provides almost the same functionality as that of DeepCrawl and SEMRush. On crawl provides nicer and clean SEO audit reports. We also recommend this one.
These were 9 SEO audit tools and you should definitely use one among them. We think most of these will be able to meet your requirements. If we missed your favourite SEO tool, please do mention in the comments.
Search Engine Code Team is comprised of SEO experts and strategists having more than 20 years of combined experience. We keep testing and delivering knowledge of SEO for the community of SEO.